A wine rack can be decorative and functional — brightening up your walls while storing your entertaining essentials. With an air compressor and a few tools, building your own wall-mounted wine rack can be a fun and easy DIY project. We'll toast to that!
Start by gathering your raw materials. We recommend using select pine wood:
One 1x6 piece cut at 23 1/4 inch
One 1x8 piece cut at 23 1/4 inch
Two 1x2 pieces cut at 4 1/4 inch
Two 1x4 pieces cut at 23 1/4 inch
Two 1x4 pieces cut at 2 3/4 inch
One 1x4 piece at 3 1/2 inch
Next, make sure you have the necessary tools and proper safety gear. To complete this project, you'll need these items:
Brad stapler with 1 1/2-inch to 2-inch staples
Air drill
Saw
Hole saw
Sander
Tape measure
Pencil
Speed square
Safety equipment
Now you're ready to get started!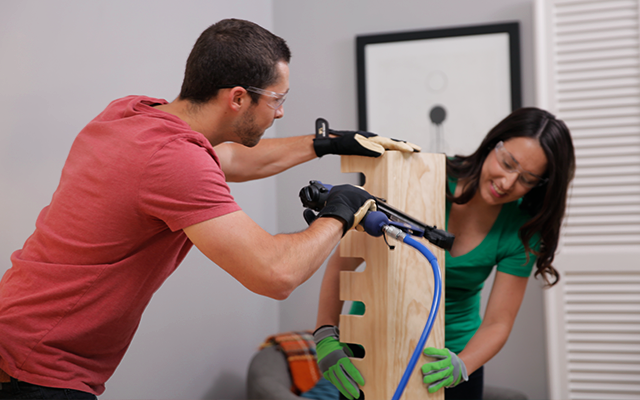 Step one: Take the 1x6 board — this will hold your wine glasses — and mark it for the stemware holes. You'll want to use a 1 1/4-inch hole saw to get the correct sized holes. Be sure to leave a 2 1/2-inch space between each wine glass slot. This will leave you with 1 5/8 inches of space on both outer edges.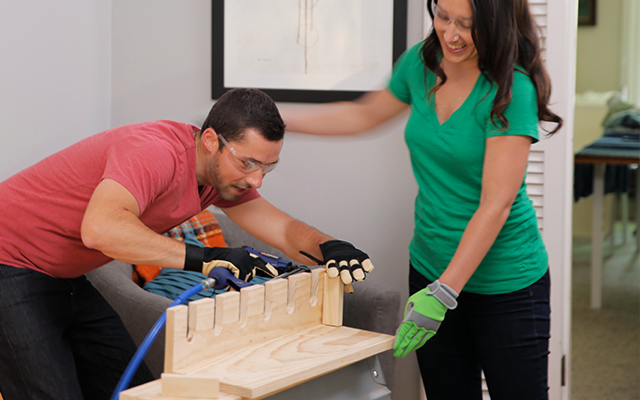 Step two: Put the 1x8 board on top of the 1x6 board so that they form an "L" lengthwise. Be sure to note the side you want the stemware to hang on. Using a staple gun, put staples through the 1x6 piece to connect the two boards — with staples about every 2 1/2 inches.
Step three: Take your "L" piece and put the 1x2 pieces on each side, running longways with the 1x6 and touching the 1x8 piece. Staple it together through both sides.
Step four:  Next, set a 1x4 board on the 1x2 piece. Make sure it's running parallel to the 1x6 and touching the 1x8 piece. Staple those together.
Step five: Attach the 3 1/2-inch piece onto the 1x4 piece and staple it in place.
Step six: Place the last 1x4 on the piece, making sure it's perpendicular to the combined 1x4 and 1x6. Staple to the front to complete the wine rack.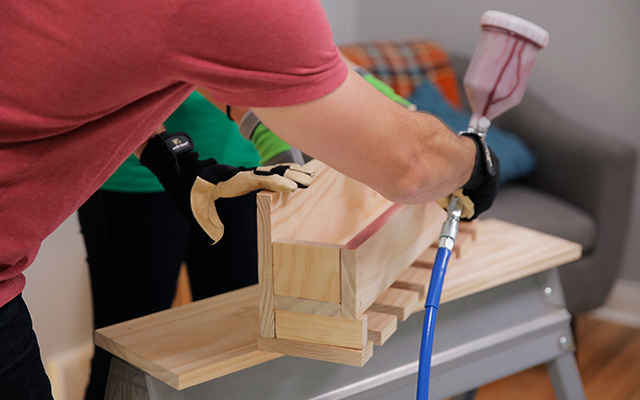 Step seven: Paint or stain the finished piece to your preferences. A spray gun can make quick work of this task. Be sure to wear proper safety gear, and though we recommend you do this work outdoors or in an unfinished area, if you are doing this work indoors take care to lay down plastic covering or drop cloths to protect floors or furniture from overspray.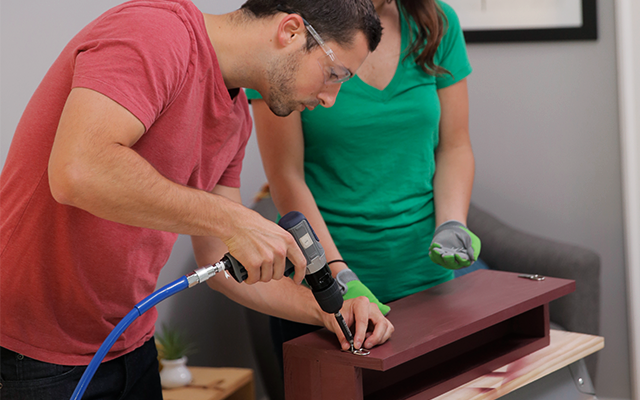 Step eight: Attach hanging hardware to the back of the piece and install on your wall.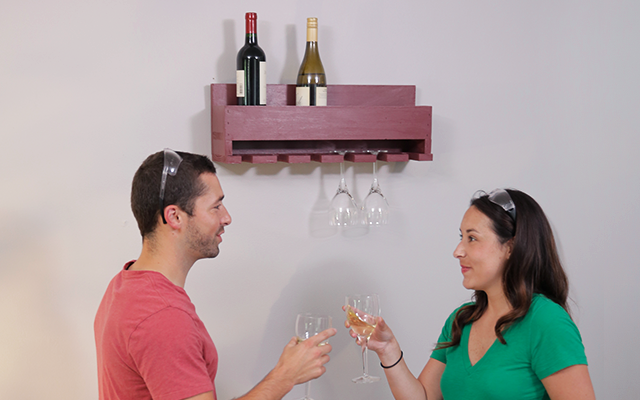 With the right tools, you can finish a DIY wine rack project in no time. Then you can raise a glass to a job well done.