If your bedroom is feeling a bit blah, one way to take the room from drab to fab is with a DIY wood headboard. Creating your own wood headboard can save you some coin — and it's an easy DIY project.
When you want to make your bedroom pop, follow these steps to create the queen-sized headboard of your dreams. Use an air compressor and air tools to complete this project.
Start by choosing wood that best reflects your vision. Quality pine boards show more of the character in the wood, for example.
Material and cut list for a queen headboard:
Six 1x6 pieces cut at 66 inches
Two 1x4 pieces cut at 56 inches
One 1x3 piece cut at 56 inches
One 1x3 piece cut at 23 inches
Two 1x2 pieces cut at 33 inches
One 1x2 piece cut at 67 1/2 inches
Next, gather your tools for the job. Your tool list includes:
Brad nailer with 1 1/2-inch brad nails
Saw
Air sander
Tape measure
Pencil
Speed square
Safety equipment
Step one: Start by sanding all the wood pieces, to get rid of rough edges and smooth it out.
Step two: The 1x4 pieces are the headboard vertical supports. Connect these supports together using the 56-inch 1x3 piece placed horizontally. Use the level to make sure they are square. It's recommended to connect just above the 4-inch point from the top of the vertical support boards. Nail these together with the 1x3 piece in the front.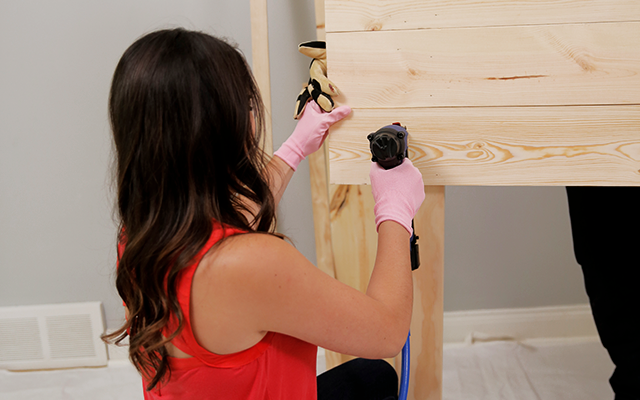 Step three: Place the first 1x6 piece so that the top of this board extends 2 inches above the vertical support beams. Make sure everything is square and properly placed, then nail on the 1x6 board. This creates the top of your headboard.
Step four: Below this top board, nail the five remaining 1x6 pieces onto the vertical support beams with no gaps between the 1x6 pieces — creating a flush headboard.
Step five: Center the remaining 1x3 piece onto the back of all your connected 1x6 boards and nail in place for additional support.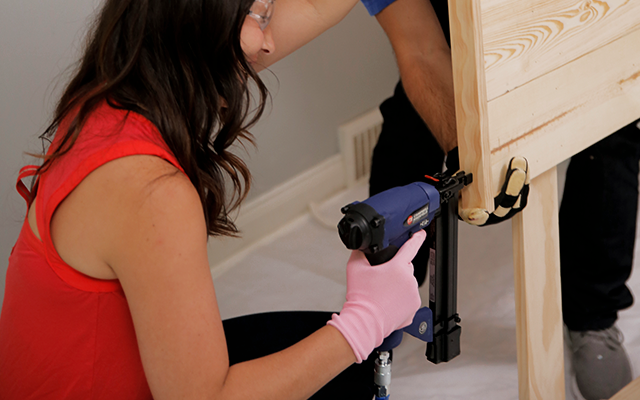 Step six: Nail the 33-inch 1x2 pieces to each side of the headboard (the 1x6 boards from step three). Place the 1x2 pieces perpendicularly. This creates your headboard edges.
Step seven: Do this same thing on top of the headboard with the remaining longer 1x2 board. This creates the top edge of the headboard.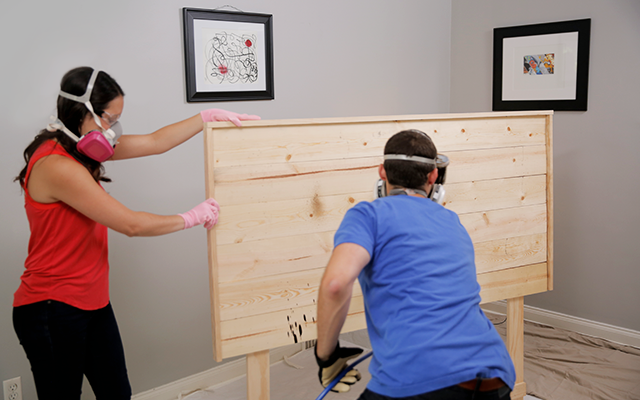 Step eight: Stain or paint the headboard to achieve your desired look. If you choose a stain, use a sealant after staining. Though we recommend painting outdoors or in an unfinished area, if you are painting or staining indoors, take care to lay down plastic covers or drop cloths to avoid getting overspray paint on the floor or furnishings.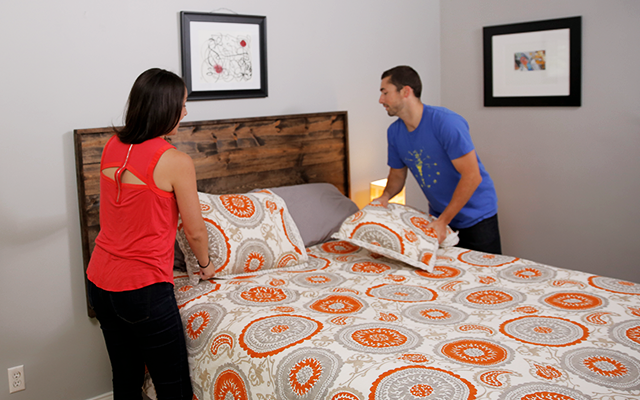 It's easy to transform the look of your bedroom in a matter of hours with a DIY wood headboard. And you can rest easy once you complete this easy and affordable DIY project.